***************************************** ELC is currently not enrolling students.
Please email any inquiries to the email address below.
*****************************************
​HOME
LIKE US ON FACEBOOK! :) Click on the smiley face.
Our mission at Experience Learning Center is simple. We aim to provide elementary, middle, and high school learners with a personalized education plan designed around their goals and interests, attending to the needs of the whole person, and coaching by adult mentors -- all which is experiential and reflective.
ELC is a safe place for students age 8-18 to grow in knowledge without the pressures of the typical modern day school environment. We've gone back in time to create a one room school house while preserving all the benefits of the present.
​
Deciding where to educate your child is one of the most important decisions parents will make. ELC understands this and devotes the proper measure of support to assist families in their decision making process. Each page on this site provides important information about how the program works.
​
4-H Summer Program 2016
ELC has teamed up with the 4-H County Extension office again this year to present day camp offerings. This year we will be offering Sketchbook Art and Woodworking Programs for kids 8 to 18 this summer.
Call today to register your child. 4-H Members $95/wk and non-members $110/wk. Reduced fees may be available for those who qualify, so please call for details or click here or the heading above.

June 20-24 Sketchbook Art (sketching, clay, weaving, felting)
July 5-8 Woodworking 1 -- Planes, Trains, Automobiles (toy making)
July 11-15 Woodworking 2 -- Games Galor (indoor/outdoor games)
July 18-22 Woodworking 3 -- Great Outdoors (beach/camp chairs)
July 25-29 Woodworking 4 -- Designers Delight (home goods)
The ELC Difference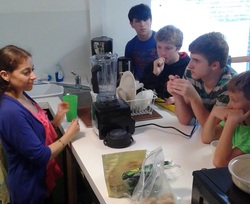 Unlike traditional schooling, we don't believe in schooling students by forcing knowledge upon them with a strict timeline. Traditional schooling is simply an ineffective way to build working knowledge; it does not work well. Traditional schools force students to move on without mastering the material. Most students don't like learning by being forced to work with restrictive schedules or in studying subjects that may not meet their personal goals. One can simply discover this by asking any student if they would like to add more choice in their daily schedule to create more personal freedom.

ELC utilizes Montessori Philosophy and real world experiences to reinforce the lessons that students study in subjects like math, science, social studies and literature. We let the student discover their own path. Young people are like sponges; we incorporate the proper mixture of mentoring and coaching to guide and teach them along the way.
---